Philips Hue Lucca White Outdoor Lantern (Hub Required), Smart Outdoor Wall Fixture and 1 Hue White LED Smart Bulb, Works with Alexa, Apple Homekit and Google Assistant
TOTAL AMAZON REVIEW = 120 (4.7  Stars)
TOTAL  BESTBUY REVIEW = 22 (4.6  Stars)
$69.97
Best deal at:
Amazon
Buy for best price
Set Lowest Price Alert
×
Notify me, when price drops
Set Alert for Product: Philips Hue Lucca White Outdoor Lantern (Hub Required), Smart Outdoor Wall Fixture and 1 Hue White LED Smart Bulb, Works with Alexa, Apple Homekit and Google Assistant - $69.97
Sentiment Score
Positive (41) Negative (1.1)
BETA VERSION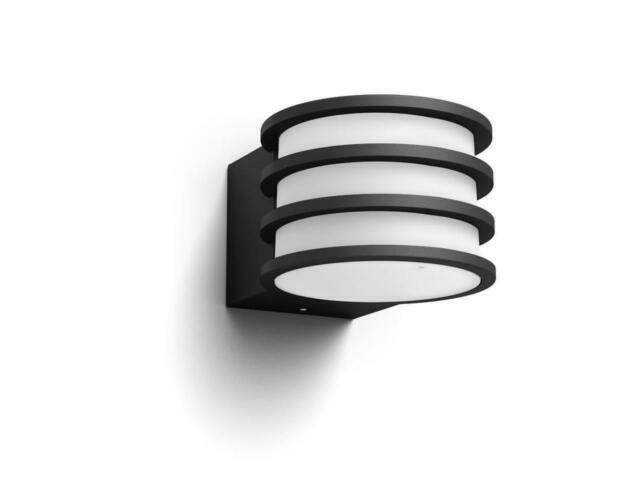 Philips Hue Lucca White Outdoor Lantern (Hub Required), Smart Outdoor Wall Fixture and 1 Hue White LED Smart Bulb, Works with Alexa, Apple Homekit and Google Assistant
Description
Philips Hue Lighting - Installing Lucca Outdoor Light
Showing you how to install your Hue Lucca Outdoor Light.
Lucca Outdoor Wall Light Unboxing
I just got my Lucca Outdoor Wall Light! Full review at www.babychickadeeblog.com.
How to install low voltage outdoor lights?
Philips Hue low voltage outdoor lights are easy to install. With Philips Hue you can easily control your light from your device, with smart accessories or even with ...
Additional information
Specification:
Philips Hue Lucca White Outdoor Lantern (Hub Required), Smart Outdoor Wall Fixture and 1 Hue White LED Smart Bulb, Works with Alexa, Apple Homekit and Google Assistant
| | |
| --- | --- |
| MPN | |
| Finish | Matt |
| ISBN | |
| EAN | Does Not Apply |
| Manufacturer | CQMTO |
| Part Number | 802058 |
| Item Weight (pounds) | 2.03 |
| Product Dimensions | 8.62 x 6.69 x 4.53 inches |
| Item model number | 802058 |
| Size | One Size |
| Color | Black |
| Style | Lucca |
| UPC | |
| Voltage (volts) | 120 |
| Material | Aluminum |
| Wattage (watts) | 9.5 |
| Item Package Quantity | 1 |
| Number Of Pieces | 2 |
| Type of Bulb | Led |
| Luminous Flux (Lumen) | 800 |
| Usage | Residential |
| Included Components | Hue White A19 bulb, Outdoor wall fixture |
| Batteries Included? | No |
| Batteries Required? | No |
| Warranty Description | 2 years. |
| For Best Connectivity | Your first Philips Hue outdoor light should be located within 30 ft from the hub or the closest hue light in Your house, You can extend the distance up tp 60 ft from one hue outdoor light to the next one. metal and certain other Materials can block the signal |
Philips Hue Lucca White Outdoor Lantern (Hub Required), Smart Outdoor Wall Fixture and 1 Hue White LED Smart Bulb, Works with Alexa, Apple Homekit and Google Assistant Videos
Reviews ( 11 )
11 reviews for
Philips Hue Lucca White Outdoor Lantern (Hub Required), Smart Outdoor Wall Fixture and 1 Hue White LED Smart Bulb, Works with Alexa, Apple Homekit and Google Assistant
---
0 Customer(s) recommended this item
Reviewed by 0 customer(s)
Larkspur

The Philips Hue lights throughout our whole house have served us very well over the years. But we've never had any on the exterior, until now. We finally got around to replacing the aging exterior sconces with Hue lights. The installation was SUPER easy. I put up three sconces in roughly 35-40mins. I've set them on timers to come on at sunset and off at sunrise. You can't beat the price. The only down side I'd have to say is they're a bit smaller than I expected. You can see I stuck my hand in one of the photos for scale. They still look fantastic though and very bright considering it's just one bulb (included).

Invictus

This is a pretty nice looking outdoor fixture. For the price it's really not more expensive than any outdoor fixtures I've looked at, which is a nice change of pace for a hue product. I have a lot of hue lighting but find the 'premium' they slap on some of their products to be exteme.This one doesn't seem over priced.What is it:An Outdoor light fixtureA Hue white A19 bulb.That holds standard A19 (Edison) bulbs.Basically, buy this for the design, not necessarily because it's hue. You can made any outdoor fixture a hue fixture if you drop a hue bulb into it, that's basically what this is. (Not a negative thing by any means).I like that's it's got standard bulb threads and makes things interchangeable, I swap this out at Halloween time with my colour bulbs for some fun effects outside.

Rizz

I am so impressed with how these turned out. They are meant for outdoor usage, but i wanted something different in my home theater so i used these as Sconces. They put out great lighting and look really good on the wall. Definitely worth the price. Highly recommended if you want something different for your interior lighting needs.

Tony

I upgraded my old "lamp" style outdoor fixtures to these modern ones. The bad: They are made of plastic, and not particularly heavy or solid. I understand why the price is less than some of the other options, as they seem very thin and basic. The installation instructions were not very good, and I spent a lot of time trying to decipher the pictures. I dropped/lost one screw, and there aren't any extras included. Also, Philips wont send replacement screws. The good news is that I got the fixtures on. They give my home a modern look. I like the look. Also, the included E26 white bulb is easily replaced with a color version (sold separately).See more

Spencer M.

I love my Philips Hue lights, they all work really great. I justified the markup for this kit thinking I would be getting a better quality, easy to install fixture. The bulbs alone are $50, meaning the fixture adds $80 to the price. You can get cheap outdoor fixtures without bulb covers from big box stores for less than $20. This kit did not come with wire nuts nor screws to hold the bar onto the electrical box. Further more, the directions specify that the fixture can be installed onto a 4″ box. This is not really true and getting a good seal is difficult due to the large overlapping size of the base. The directions even say to use caulking to seal around it, which is sloppy and would completely unnecessary if they had simply designed it to fit better and seal tight against a rubber gasket. I'm not happy at all with how this fits over the box. Toss in some messy caulking over uneven surfaces a black rough surface and you have the chance for a really sloppy looking installation

Adam F.

Installed these a few days ago, easy installation and easy setup with the Hue app, my only issue was that my electrical box was set back quite a ways back on the front door of my house, the supplied screws weren't long enough to extend past the light fixture so I went out to buy some new screws to attach to the supplied bracket, started measuring the screws and they aren't an 8-32 and doesn't really fit a 10-32, they are a 4MMx0.70 thread pitch and extremely hard to find something in a 4mm x 0.70 x 50mm lg thread pitch in a north american hardware store like Home Depot or Lowes, it was a minor inconvenience, I wish they would supply common sized fasteners in North America such as a 10-32 or 8-32 screw thread

Kindle Customer

So easy to install, puts out a ton of light. I know someone commented that you could just get a fixture with a motion sensor and put two outdoor Hue lights in it, and that is true. I got mine used from Amazon Warehouse for a great deal, and if you buy the actual Hue fixture it shows up slightly differently in the Hue app. If you can get this on sale, I highly recommend, but I agree at full price it's a lot to spend, but you don't have to worry about anything and it's all in the box so you're kind of paying for convenience here.

Kindle Customer

Looks nice, but getting it on the wall was very frustrating. I don't know who designed this, but I would love to meet them just to have the opportunity to slap them. The light comes in two pieces, one that is a little black box that attaches to the wall and has the actual light, then a second piece that attaches to the front. This would be fine, except the piece that attaches to the wall has two little black screws that refuse to tighten down and because there in the recessed black box you can't really get good leverage to actually turn the stupid things. To top it all off, as I'm cussing and fussing with these stupid screws, the front piece of the light is hanging off the front, held only in place by one of the wires coming from the light. Why in the world they didn't have these two pieces separate I cannot for the life of me figure out. Because I couldn't fully tighten the screws, I was very liberal with the silicone caulking around the fixture. Now that it's finally on the wall it looks nice, but I would never want to install another one of these. I have two other styles of the outdoor Hue and they were very easy to install.

Chelsee penrod

The product works but I feel it's mislabeled. This is a basic out door fixture that comes with a Phillips hue bulb. Your better off using your existing fixture and getting a light bulb for cheap.

SCooper

I bought 4 of these to replace all outside lights.This was easy enough to install, just basic two wires and a mounting bracket.All hue functions are managed by the bulb so the fixture is nothing more than a certified holder for your hue stuff.The bulb is the cheapest $15 hue white bulb.The picture of the bulb on the box looks like the flat bulb but you actually get the round bulb.Hue app recognizes the bulb as a hue outdoor bulb but it looks no different than the std hue white bulb.Problem I had was the round bulb only allows for dimming so I replaced the bulb with the color bulb with no issues.The bulb is surround by a solid plastic case with the top being a metal lid that unscrews to screw in the bulb.The bulb is sealed completely from the outside, so I imagine you need to make sure to never use a standard A19 bulb that could build up heat.I setup the sunset to sunrise option in hue labs and everything works flawlessly.You get a lot of light coming out of these fixtures for only 800 lum bulbs.