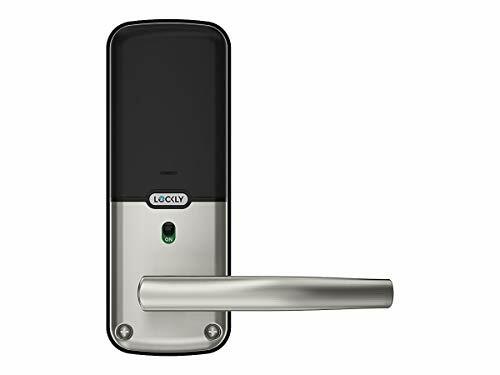 Lockly Secure Pro Dead Bolt Edition | Bluetooth Fingerprint WiFi Keyless Entry Smart Door Lock (PGD 728W) Patented Keypad | 3D Fingerprint Sensor | iOS Android Compatible (Dead Bolt, Venetian Bronze)
Lockly Secure Pro Latch Edition | Bluetooth Fingerprint WiFi Keyless Entry Smart Door Lock (PGD628W) Secure Keypad | 3D Fingerprint Reader | iOS Android Compatible (Latch, Satin Nickel)
$350.19
Best deal at:
eBay
Buy for best price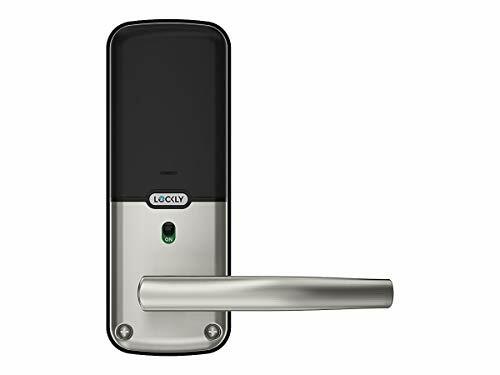 Lockly Secure Pro Dead Bolt Edition | Bluetooth Fingerprint WiFi Keyless Entry Smart Door Lock (PGD 728W) Patented Keypad | 3D Fingerprint Sensor | iOS Android Compatible (Dead Bolt, Venetian Bronze)
Description
YOUR FINGER IS YOUR KEY: Unlock your door using the built-in advanced 3D fingerprint sensor. Unlike other smart locks, Lockly only uses high-quality capacitive fingerprint sensors which only recognizes fingerprints unlike less secure optical readers. Stores up to 99 unique fingerprints. PEEK-PROOF DIGITAL KEYPAD: Patented PIN Genie technology makes it nearly impossible to guess your personal access code (even if someone is watching) when entering your PIN number by always shuffling number locations on the secure, backlit keypad. CONVENIENCE – WIFI HUB INCLUDED: Lock and unlock your home, office, or rental property door all from the convenience of your iOS or Android smartphone secure Bluetooth connection or WiFi anywhere in the world. Includes two backup physical keys for peace of mind. KNOW WHO IS COMING AND GOING: Stores all access history so you can review who is coming and going anytime from your mobile phone. Great for keeping track of family members as they arrive home. Grant one-time use or specific time duration access by issuing codes or digital eKeys remotely your mobile phone. Guests can access using their mobile phone, even without an internet or cellular connection. EASY DIY INSTALLATION AND VOICE: Replaces existing deadbolt with basic household tools in about 15 minutes. Fits both left and right swinging standard doors, 1 3/8 to 2 inches thick. Requires 2 1/8 inch face bore hole. Works with Alexa and Google Assistant Fast, accurate, 3D fingerprint recognition and number shuffling PIN Genie keypad – Lockly is the world's most advanced and secure smart lock for home, office, or rental property. UNMATCHED SECURITY Fingerprint Access-Lockly's advanced 3D biometric fingerprint sensor stores up to 99 fingerprints and works using actual fingerprints as opposed to optical…
Lockly Secure Pro Deadbolt Edition Review | Smart Door Lock
Lockly Secure Pro Deadbolt edition Smart Door Lock Review. For more info: Lockly Secure Pro : http://bit.ly/2GkpjsF $20 off discount code: HighTechPoint20 ...
Lockly Secure Pro Smart Lock Review
Today, we are going to check and test out the Lockly Smart Lock. This is their Secure Pro version which is their model that has the most features. Lockly has ...
How to Install the Lockly Secure (Deadbolt Edition)
This is a quick how to install video for the Lockly Secure Smart Lock (Deadbolt Edition). To secure your door with the world's most advanced smart lock, visit ...
Lockly Secure Pro | Deadbolt Edition | Unboxing and Review
We check out the Secure Pro (Dead Bolt Edition) from Lockly! Check Out Lockly ▻ https://lockly.com/ Lockly Secure Pro (available in Latch and Deadbolt ...
Lockly Secure Pro Dead Bolt Edition | Bluetooth Fingerprint WiFi Keyless Entry Smart Door Lock (PGD 728W) Patented Keypad | 3D Fingerprint Sensor | iOS Android Compatible (Dead Bolt, Venetian Bronze) Videos
World News
Lockly Secure Pro Deadbolt Edition smart lock review - The Gadgeteer
May 9, 2019 -
The Gadgeteer
Turbolock TL117 Smart Lock Review - PCMag
November 30, 2020 -
PCMag
Lockly Secure Pro Smart Deadbolt Edition Review – Feature Heavy Security - Android Headlines
May 15, 2019 -
Android Headlines
Lockly Secure Pro Review: This pricey biometric smart lock joins the Wi-Fi club - TechHive
August 12, 2019 -
TechHive
The best smart door locks to keep you safe - Android Authority
October 20, 2020 -
Android Authority
Lockly Vision Review: A versatile smart lock and video doorbell in one [Video] - 9to5Toys
Lockly's awesome smart lock unlocks in five different ways, and it's discounted at Amazon - BGR
Reviews ( 25 )
25 reviews for
Lockly Secure Pro Dead Bolt Edition | Bluetooth Fingerprint WiFi Keyless Entry Smart Door Lock (PGD 728W) Patented Keypad | 3D Fingerprint Sensor | iOS Android Compatible (Dead Bolt, Venetian Bronze)
---
0 Customer(s) recommended this item
Reviewed by 01 customer(s)